Member Management
Create and Edit Club Member information.

When you select the Member Management module, you will be presented with a list of current members for your club.

The filter button allows selection of the current club (for users with access to more than one club), and to choose whether to display inactive members.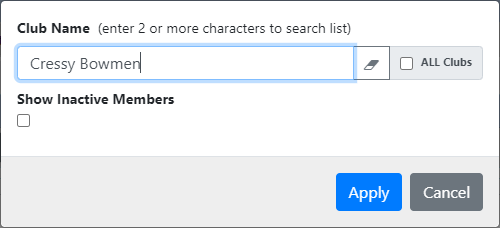 Change the options as required, and select the Apply button.
MAIN TOOLBAR
[Home] Return to the Home page
[Members] Display the Members page
[Transfers] Display the Member transfers page
[Associates] Display the page to link associate members
[Unp. Awards] Display the page to find Unprocessed Awards and Classifications
MEMBERS TOOLBAR
[Create] Create a new member records
[Edit] Edit an existing member record
[Handicaps] Review the scores which contributed to the member handicap
[Awards] Manage the Awards earned by the selected member
[Export Handicaps] Export the handicap information for all active members
[Find Handicap] Search the complete Archers Diary database for a member Handicap
LINKS: