Importing Members
It is possible to import a list of members from a Microsoft Excel 2003 spreadsheet. This spreadsheet should have the first row as column headers, with the member data in the correct locations below. The member names must be separated into surname and given names.
From the members screen, right click anywhere on the member list and select Import Members from the menu. The following screen will appear.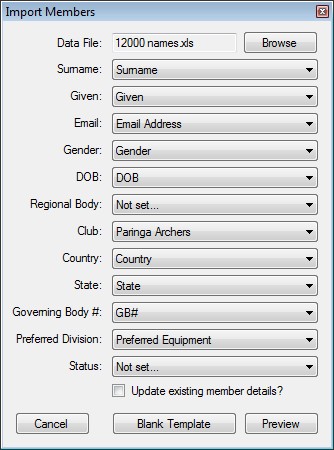 From this screen, you can click the Blank Template button - this will save a blank template for you to fill out onto your machine.
Allowed entries and formats for the spreadsheet are as follows:
Gender

: Male or Female

DOB

: d/m/y format

Preferred Equipment

: Compound, Recurve, Longbow, Barebow Compound, Barebow Recurve or Crossbow
Once you have filled out the spreadsheet, click the Browse button, then select your spreadsheet. The dropdown lists will then populate with the column names it has determined match the required fields. Please check that these all match.
Optionally, if you have access to the Archery Australia Inc IMG Member database, you can do an export of your current, financial members from there and import these, rather than filling out the blank spreadsheet. Please note that you do not have to modify the IMG export spreadsheet - the system should automatically work out the correct columns to use.
Optionally, you can set the Regional Body from the options available in the dropdown list. You can also select the Status for the members being imported (e.g. active).
By default, if you try and import a member that already exists, their details will not be updated. If you want to update their details, tick the Update existing member details checkbox.
Once you are happy to continue, press the Preview button - the following screen will be displayed.
If you are happy that all of the details are correct, press the Import button, then press the OK button to confirm. Your new members will then appear in your member list.
Don't forget to press the OK button to keep the changes. Alternatively, if you notice a problem, you can press the Cancel button on the members window and start over again.