Create Record
Select the relevant Level (National, State or Club)
For State / Club, select the relevant RGB
For Club, select the relevant Club
Select the relevant Class, Gender, Division and Type information.
Click on the [Create] button
A form will be displayed to allow entry of the new Record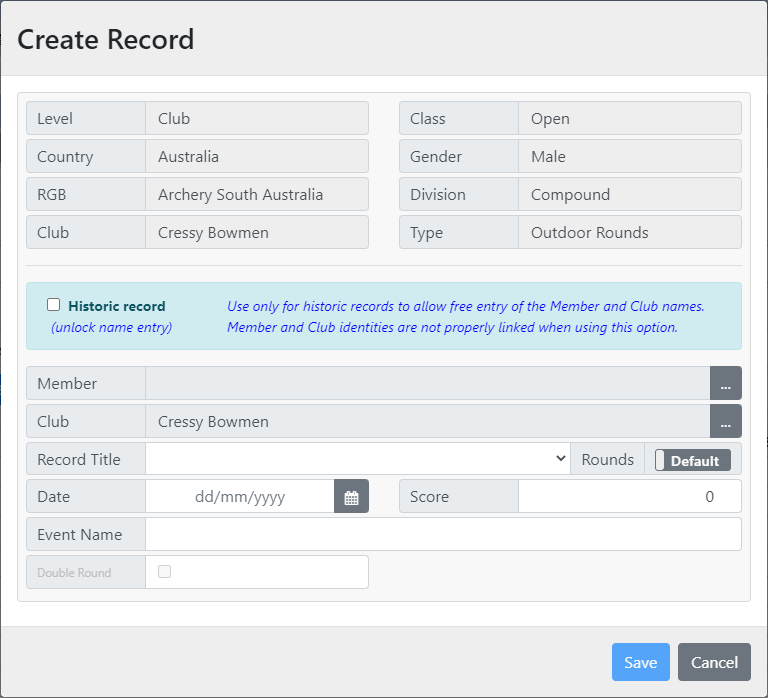 [Rounds] Default = Show only the existing valid rounds for the Class / Gender / Division
All AA Rounds = Show all official AA Rounds for selection
At the National level .. only the official rounds can be selected
At the State and Club levels .. any AA Round may be selected as a Record
[Historic record] Where either the club of the member is not currently part of Archers Diary, this option may be selected for entry of the Member and Club names.
Note: this option should only be used for historic records. Using this option does not link the Club and Member to the record. This can impact on the summary information for the Clubs and Members.
[Member] Select the Member from the AD database who achieved the record. The Member's current clubs will be auto-populated.
For historical records, enter the name of the Member.
[Club] Select the Club associated with the Member at the time of the shoot.
For historical records, enter the name of the Club.
[Record Title] Select the Round from the list
[Rounds] Default: Display only National Records rounds + custom rounds added by selected State / Club
All AA: Display all AA Rounds .. allows States / Clubs to add custom records
[Date] Select the date the Record was achieved
[Score] Enter the score.
[Event name] (optional) enter the name of the event where the record as shot.
[Double Round] If the score was for a double-round, check this box.
Click [Save] when done.
Note: The records must fit into history both chronologically and by score. If the score / date entered means a lower score than an earlier date, or a higher score for a later date, then the record will be rejected.
Custom Records
By default, the system recognises records for the same rounds as for the National Records.
States and Clubs can add additional records combinations, that are not s standard National Record.
Eg. A Club could add a WA50/720 for Open Male Recurve, or a Samford Cadet Female Longbow