Chosing the order of recording
Once this page is displayed, and all of the archers to be scored on this device have been selected, you can now go offline or move away from the Internet access point.
Scoring can continue from this point with or without a connection to the Internet.
It is recommended that you remain connected to the Internet where possible. The total data used during scoring is < 1MB for the entire shoot.
Press on the Select Archers button, to return to the previous screen, if you need to select additional archers, or to release an archer from the device.
Note: you must be connected to the Internet to add or remove archers.
If you remain online, scores will be uploaded to the Archers Diary at the completion of each end.
If you go offline, scores will be uploaded when you regain an Internet connection.
Press on the archers, in the order you wish to score at the target.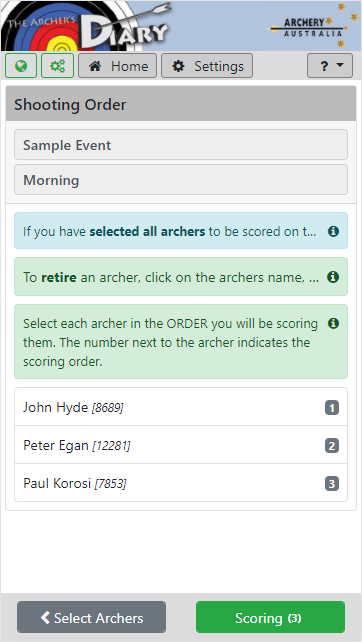 A small badge will appear next to each selected archer, indicating the scoring order.
Once all archers have been selected, press on the Scoring button to continue.